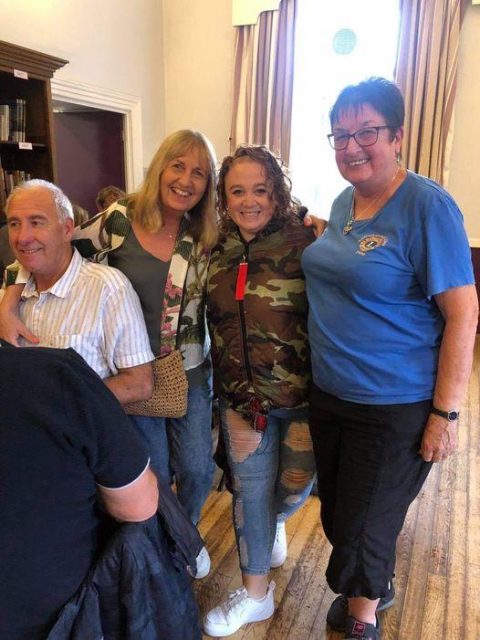 It has been a busy weekend, so apologies for the late review of Friday.
It is hard to believe this is the last day, it has gone by in a blur this year. Friday saw Winnie and Warwick up to their tricks at the Market Cross and the continuation of the 'greening' of Butter Lane. Knaresborough Lions opened their Beer Festival and burgers & pies from McQueens (and a bit of singing). They had live music with sea shanties and more. Down at Henshaw's we had our big Mod event with the 5:15s, it was very well attended and lived up to expectations of great music and a lot of dancing. Brilliant night!
Saturday was disappointing as the rain, combined with a high risk of thunder & lightning, meant that we cancelled Picnic in the park on safety grounds. We did not do this lightly as we all enjoy that event so much. Thankfully the singers jumped at the chance to play at the Beer Festival, so we still had a great afternoon. As you can see by the photograph we were joined by TV star Amanda Henderson who really seemed to enjoy the afternoon of music under the canopy of a Lions gazebo with her friends. Well done to Lucy and the FEVA music team for keeping the show going, it has been a hard year and we appreciate your work.
Our Art Director, Fiona, has taken the 'pinking' of the town to extremes and has arranged for Trinity Church Spire to be illuminated pink, what a great sight it is. The art trail has been fantastic and the number of workshops is great. I love the fused glass designs from the kids' workshops. You still have today to see many of the exhibitions.
And this afternoon evergreen favourite Bob's Your Uncle is back to entertain and amuse at the Market Cross. It is fantastic that he is here again.