from humble beginnings by Robin van Zelst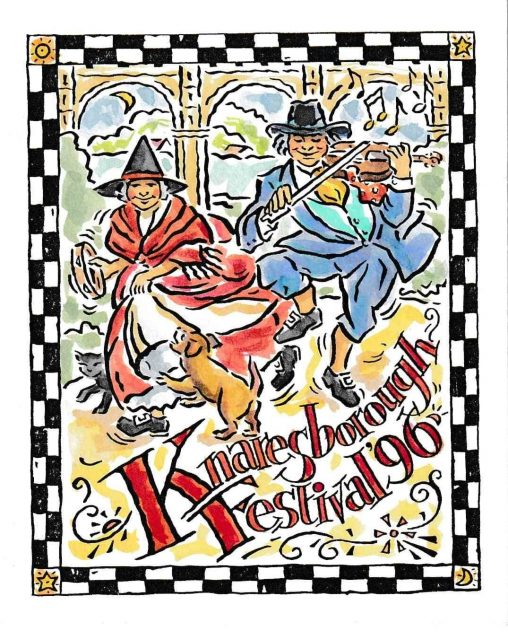 Lunchtime, sometime in the summer of 1995, walking up the High Street in Knaresborough I take note yet again of the empty shops staring vacantly at the shoppers and tourists and wonder once again if they will ever be occupied. This is not the Knaresborough of my youth where my 6.30am town centre paper round took me, when every shop had a business, a purpose, an owner.
I take my lunchtime sandwich to my father's house and sit in the living room that looks directly over the High Street. "It's time something was done to bring people back into to this town Dad" I say through mouthfuls of sandwich "a music festival sort of like Whitby's but with a wider reach musically". I continue my stream of conscious rambling. I am not really expecting anything by way of response but continue. "Maybe other interest groups would get involved, make it a kind of arts festival …. or something" Dad's ears pricked up, he was 'in the room'!. From that moment onward my Dad took the ball and ran leaving me in his bewildered and initially reticent wake. I don't know if He was planning a grand statement, a last hurrah (he was 62 years old in 1995) but his enthusiasm and energy had been ignited and I trailed behind him, both of us adding new heads to the beast, discussing and re discussing plans for what shape a festival would eventually take and how we could raise funds and support. It was Dad though, always pushing forward, enthusiastic and motivated.
We really wanted the Festival to be family orientated with as many interest groups from the community involved as we could entice and with as many free events as we could realistically stage. Dad and I and our new found committee would act as fundraisers, publicists, organisers and procurers of the aforementioned empty shop spaces for those wishing to display their work or carry out their events.
We started with £0.00, not even the money for a postage stamp but we optimistically opened a bank account at The Yorkshire Bank in the Market Place, the manager defining our venture as an "enterprise' going on to organise a cheque book and monthly statements (he even eventually buckled under our fundraising onslaught, donating much needed moolah to our echoingly empty 'vaults').
And that was how it was. Our first festival. Dad and I wandering around the businesses of Knaresborough with a vague idea and a big tale about how we wanted to put Knaresborough back on the map, boring the good business people of the town into financial submission, wrangling funds from wherever we could. There were nay-sayers and fence-sitters but most would eventually get on board, maybe not in the first year but by year two (1997) businesses were contacting us and asking how they could help adding to 96's roll call of the helpful and hopeful.
The Knaresborough Festival would not exist today however if it were not for the volunteer committee members and representatives from camera clubs, from pubs, The Knaresborough Post, from both Trinity and St John's churches, the Frazer Theatre, the Kboro watercolour society and so many other good people who put their hearts, minds and efforts into making that first ever festival what it was; a resounding success. Without all that dedication and hard work we would not have been encouraged to continue.
Dad was the fuel that powered Knaresborough Festival, his enthusiasm and ideas, his persuasive 'encouragements' to all those businesses and groups and individuals the cement and bricks that would build what was then The Knaresborough Festival and is now the magnificent FEVA.
If you see your name, or a familiar business in amongst the exhibition memorabilia from 25 years ago, if you owned or ran any of them or were a volunteer, an organiser or helped in any way with that first festival, be proud and know that your belief and work has paid off and made what is now a fantastic, diverse 10 day, annual event about to celebrate it's 25th anniversary.
Oh! And maybe spare a thought for Derrick van Zelst, my Dad and Knaresborough Festival's first organiser.